St. Benedict's Monastery
Arcadia
Australia
Hospitality is one of the key components of the Benedictine life-style. There is no Benedictine Spirituality without the welcoming of guests. In his Rule, Saint Benedict says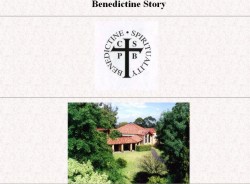 "Let all guests that come to the monastery be received as Christ. For, one day , he will say: "I was a stranger and you welcomed me." In other words, monastic hospitality is essentially based on the Gospel values.
In our time, as in Benedict's day, visitors, single or small groups are never lacking in a monastery. They come for different reasons. Some come for a quiet time, for personal prayer or to join the monks at the Liturgy of the Hours, or they come to seek counsel or support in a difficulty or simply "to return to the source."
In a turbulent and hectic world, the monastery with its space for recollection and prayer draws the visitors gently towards God who is the source of peace.
ST. BENEDICT'S MOASTERY
121 Arcadia Rd
Arcadia NSW 2159
Australia
Tel: +61 2 9653 1159
Fax: + 61 2 9653 1883
http://www.benedictine.org.au/
Email: monks@benedictine.org.au